Storing Refrigerant Containers
Store refrigerant cylinders and drums in a dry, ventilated warehouse or other enclosed area away from heat, flame, corrosive chemicals or fumes, and explosives.
Keep containers out of direct sunlight, particularly in warm weather.
Since refrigerants expand when heated, they require head space in the top of the cylinder to allow for expansion.
Cylinders may be full of liquid at temperatures above 130°F.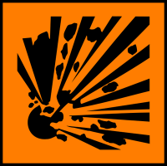 Never allow a cylinder to get warmer than 125°F (51.7°C).
Once the cylinder is full, any further rise in the temperature can result in an abrupt rise in liquid pressure to extremely high levels…
"Enough to cause the cylinder to burst, resulting in serious personal injury"
Storage Area for Cylinders and Drums
Cylinders and drums should always be stored above dirt or damp floors to prevent rusting.
Use a platform or parallel rails to separate them from the damp floor.
All containers must be secured in place by means of a rack, chain or rope.
This prevents them from tipping, rolling or accidentally striking each other or any other object.
Since the cylinders and drums are colour-coded, it is easy to identify each refrigerant.
Removal and Restoration of Refrigerant
The removal and/or restoration of refrigerant from a refrigerant system is accomplished by one of four methods:
Recover
Reuse
Recycle
Reclaim
Regardless of the method used, it is imperative that refrigerants be removed in accordance with MR 103/94.
"Recover" means to capture in a closed container an ODS or other halocarbon that is removed from air conditioning or refrigeration equipment.
"Reuse" means to return a recovered ODS or other halocarbon to air conditioning or refrigeration equipment after the completion of repairs or service to the equipment.
"Recycle" means to reuse an ODS or other halocarbon that has been recovered from air conditioning or refrigeration equipment in other equipment and has been restored to a higher level of purity.
"Reclaim" means to restore a recovered refrigerant, ODS or other halocarbon substance to its original level of purity and product specification.