Reclaimable Cylinders
Reclaimable cylinders are manufactured from high quality heavy gauge corrosion resistant steel.
They are designed to withstand continuous usage over many years.
Reclaimable cylinders have emerged as a result of current environmental regulations regarding the safe recovery and containment of virgin and contaminated refrigerants.
Reclaimable cylinders are returned to the supplier who will send them to a reclamation centre for reprocessing.
The cylinder must have safety and product warning information placed on it in accordance with the Transportation of Dangerous Goods and Occupational Health and Safety Regulations.
Reclaimable cylinders fall into the refillable category and therefore must be tested every five years.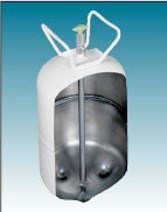 Reclaimable cylinders are the only cylinders that can be refilled without written permission from the refrigerant manufacturers because these cylinders are approved for such use.
MSDS must accompany the cylinder providing necessary product safety information.
These cylinders can be used for dispensing, recycling and reclaiming as they are equipped with a two-way valve that allows for the dispensing of recycled or reclaimed refrigerant.
Reclaimable cylinders are equipped with a standard connections.
The valve is connected to the top of the cylinder.
The valve design consists of a body, two valve stems, and a liquid tube which extends to the bottom of the tank and is designed to be leak-free when refrigerant is being dispensed, recycled or reclaimed.
The cylinder valve outlet must be kept covered with the cap supplied when not in use to keep out foreign materials.
A fusible plug safety relief device is used to prevent over-pressurizing of the cylinder.