Refrigerant Containers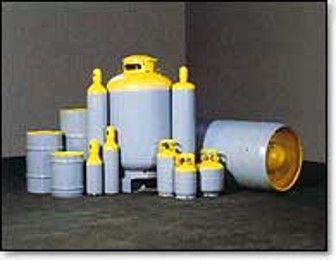 There are three main types of refrigerant containers:
Drums
Cylinders
Absorption cylinders/bottles
Drums
Refrigerant drums are stamped with the following information:
Department of Transport (DOT) spec. #
Gauge of steel
Volume of the drum
Refrigerant manufacturer's symbol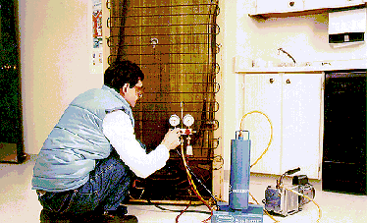 Drum Safety
Some safety considerations when handling drums are:
Do not use pressure to empty a drum
Before moving a drum and after each use, be sure its plugs are securely tightened
Cylinders
A cylinder is a vessel designed to contain, transport, dispense, recover and reclaim refrigerants safely.
Refrigerant cylinders are manufactured and designed to DOT standards that withstand the normal pressures exerted by the refrigerant liquid/vapour mixtures.
Cylinders or any type of pressurized container designed to hold less than 10 kg of refrigerant are not industry standard.
Refrigerant cylinders are available in various types, which include:
Non-recyclable (disposable)
Refillable and recyclable
Reclaimable
Absorption
Non-Recyclable (Disposable): no longer permitted by law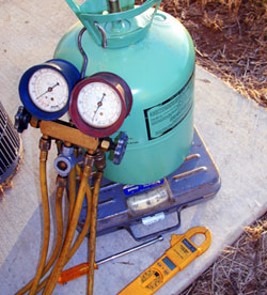 Non-recyclable cylinders are manufactured from light gauge steel and housed in a shallow carton for added protection
They are not designed to withstand continuous usage, thus giving them the name "one-trip cylinder"
Non-recyclable cylinders cannot withstand the effects of moisture and will corrode quickly
Empty non-recyclable cylinders must have a sticker stating that all refrigerant has been recovered prior to returning or disposal
Non-refillable cylinders are dispensing cylinders only
They are equipped with a one- way valve that does not allow refilling
The cylinder is equipped with a ¼" SAE flared outlet
This is a Compressed Gas Association (CGA) 165 connection specified for refrigerant gases and is used voluntarily worldwide
The valve connected to the top of the cylinder is a needle valve consisting of a body and valve stem, and is leak-free when refrigerant is being dispensed
The cylinder valve outlet must be covered with the cap supplied when not in use to keep out foreign materials
Under section 18.1 of MR 103/94, the use of non-refillable/non-recyclable containers is prohibited (i.e., classified as an inappropriate container)
In non-recyclable cylinders, the refrigerant heel (the small remaining quantity of refrigerant remaining in the cylinder after use) was not being recovered and the protective carton added to solid waste problems
Absorption Cylinders
Absorption cylinder technology is based on the use of a synthetic filler material and the principle of absorption.
The absorption cylinder traps refrigerant vapours as they pass through the synthetic filler material in the cylinder.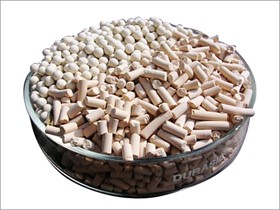 The synthetic filler acts as a molecular sieve absorbing refrigerant vapours.
All non-condensable vapours are allowed to escape.
The absorption cylinder has two advantages:
It virtually eliminates the emission of refrigerants during installation, servicing, and decommissioning of refrigeration and air conditioning equipment
The cylinders are non-pressurized vessels, which simplifies transportation and reduces regulatory requirements